Against All Enemies Audiobook
---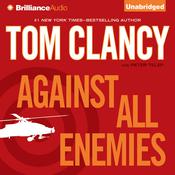 Against All Enemies
Written by: Tom Clancy
Narrated by:

Steven Weber

Publisher:

Brilliance Audio

Format:

Unabridged Audiobook

Audio Length: 18.25 hours
Release Date:

June 2011

Categories: Fiction
Audiobook Summary:
Tom Clancy is a master of espionage who has written numerous books on the topic, some fiction and some non-fiction. In Against All Enemies, he introduces us to a new leading man—Max Moore, an ex-SEAL who is now working for the CIA's Special Activities Division. Moore is stationed on an American ship carrying a Taliban prisoner off the coast of Pakistan. In a brutal attack, everyone on board the ship is killed except for Max and the need to get revenge is what drives him to find out which terrorist cell is responsible.
The Taliban are the obvious enemies in this book but Clancy brings in a twist when he has them working hand in hand with Mexican drug cartels. The Taliban are trying to bring the jihad back on United States territory and are using the drug cartels to get a foothold. To make matters more complicated, there is a war going on between the Juarez and Sinaloa cartels and a lot of corruption among the police and government officials in Mexico as well as Pakistan.
At first, Moore and his team attempt to play the cartels off of each other but they are only mildly successful in doing this and the Taliban manage to smuggle their people into the US. Now, they are planning to target flights in several cities by using surface-to-air missile launchers and it's up to Moore and his team to prevent this from happening. Towards the end, Moore is sent to Belize to get the leader of the terrorist cell and manages to do so after an exciting boat chase.
Clancy and his co-writer, Peter Telep, have written a book that echoes Clancy's earlier work. Although Clancy is best known for his tales of espionage centered around the cold war, Against All Enemies shows that he is also capable of creating a gripping tale in the world as it exists currently, with threats of terrorism from many quarters and more than two main players in the game. Clancy is on point when it comes to descriptions of technology and we see Moore working with various gadgets that Clancy has obviously researched thoroughly. He also uses a lot of insider jargon which gives him the ring of authenticity e.g., he calls CIA operatives "blue badgers" and consultants "green badgers."
Tom Clancy was born in 1947 in Baltimore, Maryland and went to Loyola college. After graduating, he married his first wife, Wanda, and worked as an insurance broker until he wrote his first novel, The Hunt for Red October which was later made into a movie starring Sean Connery and Alec Baldwin. His subsequent books, Patriot Games and Clear and Present Danger were also made into movies starring Harrison Ford while The Sum of All Fears featured Ben Affleck and Morgan Freeman. In 1999, he divorced Wanda and married freelance journalist Alexandra Marie Llewellyn.
Clancy's co-writer in this book, Peter Telep, is also an author in his own right, with 30 books to his name. He teaches at the University of Central Florida.
For years, ex–Navy SEAL Maxwell Moore has worked across the Middle East and behind the scenes for the Special Activities Division of the CIA, making connections, extracting valuable intelligence, and facing off against America's enemies at every turn. And then … news of a potentially devastating coalition: What if two of the greatest threats to the security of the United States were to form an unholy alliance? The Taliban is trying to exploit a Mexican drug cartel to which they supply opium as a means to bring the fire of jihad to the hearts of the infidels. It is up to Moore, and his team, to infiltrate and dismantle the drug cartel, even as they hunt for those who would bring the ultimate terror and destruction to the streets of America. In a story that races from the remote, war-scarred landscapes of the Middle East to the blood-soaked chaos of the US–Mexico border, Tom Clancy once again delivers a heart-stopping thriller that is frighteningly close to reality.
Download or Stream Free this audiobook now!
---
Related Audiobooks:
---
Other Books by Tom Clancy: