Expanded Universe, Vol. 1 Audiobook
---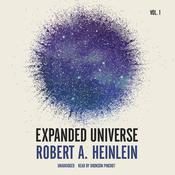 Expanded Universe, Vol. 1
Written by: Robert A. Heinlein
Narrated by:

Bronson Pinchot

Publisher:

Blackstone Audio

Format:

Unabridged Audiobook

Audio Length: 9 hours
Release Date:

June 2015

ISBN:

9781504635226

Categories: Science Fiction
Audiobook Summary:
Robert A. Heinlein has been hailed as one of the most forward-thinking science fiction writers of all time, and Expanded Universe (presented in two volumes) offers the perfect collection of his works to provide listeners with true insights into his uniquely creative mind.
Heinlein personally selected each story or essay for inclusion in this collection, which is ordered chronologically, starting with his first sale in 1939 of "Life-Line" to Astounding (for seventy dollars). This remarkable collection highlights the development of Heinlein's writing style and his philosophy on life throughout his career.
More importantly, this collection is as close to an autobiography as anything Heinlein wrote during his life. Heinlein was an extremely private person who never wrote much about himself. In this exclusive collection, he offers forewords to most of his stories and essays (and an occasional afterword), giving listeners a rare glimpse into the inner mind of the master.
Expanded Universe is a must-have for any Heinlein enthusiast and any fan of science fiction.
Download or Stream Free this audiobook now!
---
Related Audiobooks:
---
Other Books by Robert A. Heinlein:
---
<!++ Start About the Author Section ++>
About the Author
Robert Anson Heinlein (1907–1988) was born in Missouri. He served five years in the US Navy and then attended graduate classes in mathematics and physics at UCLA. After a variety of jobs, he began to write science fiction in 1939. He is a four+time winner of the Hugo Award and a recipient of three Retro Hugos, and in 1975 he was named the first recipient of the Grand Master Award for lifetime achievement. Several of his books were New York Times bestsellers, and his worldwide bestsellers have been translated into twenty+two languages.
<!++ End About the Author Section ++><!++ Start About the Author Section ++>
About the Narrator
Bronson Pinchot, an Audie Award–winning narrator, received his education at Yale University, which filled out what he had already received at his mother's knee in the all+important areas of Shakespeare, Greek art and architecture, and the Italian Renaissance. He restores Greek Revival buildings and appears in television, film, and on stage whenever the pilasters and entablatures overwhelm him.
<!++ End About the Author Section ++>