The Long Utopia: A Novel Audiobook
---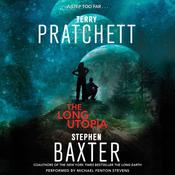 The Long Utopia: A Novel
Written by: Stephen Baxter, Terry Pratchett
Narrated by:

Michael Fenton Stevens

Publisher:

HarperCollins

Format:

Unabridged Audiobook

Audio Length: 12 hours
Release Date:

June 2015

ISBN:

9780062297365

Categories: Science Fiction
Audiobook Summary:
The fourth novel in Terry Pratchett and Stephen Baxter's internationally bestselling Long Earth series
2045–2059. Human society continues to evolve on Datum Earth, its battered and weary origin planet, as the spread of humanity progresses throughout the many Earths beyond.
Lobsang, now an elderly and complex AI, suffers a breakdown and, disguised as a human, attempts to live a "normal" life on one of the millions of Long Earth worlds. His old friend Joshua, now in his fifties, searches for his father and discovers a heretofore unknown family history. And the super-intelligent post-humans known as "the Next" continue to adapt to life among "lesser" humans.
But an alarming new challenge looms. An alien planet has somehow become "entangled" with one of the Long Earth worlds, and, as Lobsang and Joshua learn, its voracious denizens intend to capture, conquer, and colonize the new universe—the Long Earth—they have inadvertently discovered.
World-building, the intersection of universes, the coexistence of diverse species, and the cosmic meaning of the Long Earth itself are among the mind-expanding themes explored in this exciting new installment of Terry Pratchett and Stephen Baxter's extraordinary Long Earth series.
Download or Stream Free this audiobook now!
---
Related Audiobooks:
---
Other Books by Terry Pratchett:
---
<!++ Start About the Author Section ++>
About the Author
Terry Pratchett (1948–2015) was an English novelist known for his frequently comical work in the fantasy genre. He is best known for his popular and long+running Discworld series. His first novel, The Carpet People, was published in 1971, and after publishing his first Discworld novel, The Color of Magic, in 1983, he wrote two books a year on average. He was the United Kingdom's bestselling author of the 1990s and has sold more than 55 million books worldwide. In 2001 he won the Carnegie Medal for his children's novel The Amazing Maurice and his Educated Rodents. Pratchett was appointed Officer of the Order of the British Empire for services to literature in 1998 and was knighted in 2009.
<!++ End About the Author Section ++><!++ Start About the Author Section ++>
About the Narrator
Michael Fenton Stevens is an actor and comedian, as well as a founding member of The Hee Bee Gee Bees, a pop music group. He is known for his work in television and for his voice work on BBC Radio 4.
<!++ End About the Author Section ++>